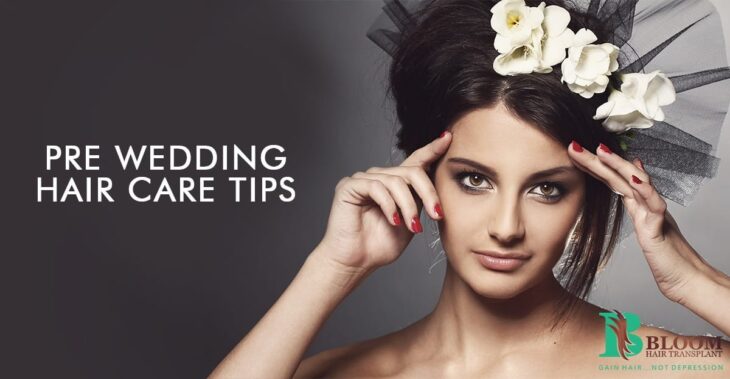 Pre-Wedding Hair Care Tip
Are you excited about your wedding and are all set to look the best on your wedding day? Then how do you plan for it? Rush to the best beauty parlor and have your hair styled with expensive products? Well, you will only be flushing your hair with chemicals. So isn't there an alternative way to look your best on your big day? There is one – to take good care of your hair at least 6 months before. Now, relax and read the following tips!
Follow a balanced diet- essential for a bridal hairstyle
Most Indian women are found to be undernourished. Vegetarian brides tend to lack in Vitamin B12 and Omega 3 fatty acids in their diets. To prevent premature greying and hair loss, eat food items rich in Zinc. Cashews, whole milk, beans are rich in Copper which also helps in preventing hair fall.
Hair conditioning for a bridal hairstyle
This is nothing new, you know very well how necessary it is to condition your hair after shampooing as it stores the moisture back into the hair. Also, it makes your hair healthy.
Fix hair problems before a bridal hairstyle
Start early so that you can get rid of your hair problems by the wedding date. In case you have dandruff in your hair, get it to check from a good dermatologist well before it. And get ready to flaunt your bridal hairstyle.
Stop Those Chemicals
Say 'NO' to all the chemical-based hair care and hair styling products if you don't want to suffer sudden hair loss.
Hydrate your hair
Just like your skin, your hair needs hydration too. Drink about eight glasses of water daily. This will not only affect your skin in a good way but will also strengthen your hair and increase its growth.
Trim Trim Trim!
Just before your wedding day, it is not good to try a new look or bolder hairstyle. If you still wish to do something with your hair, trim it. Get rid of your split ends by your hairdresser, and do this way before the ceremony, not the day before.
Avoid heat
Blow drying and heat-styling may look and sound great but are actually dangerous for the hair. Avoid any kind of heat styling before your wedding. Let your hair dry naturally instead of blow-drying. Also, avoid wrapping or rubbing your hair in a towel to dry it. This would lessen breakage and frizzing.
Avoid stress
Weddings are stressful, do choose some physical activities to relax and calm your mind like meditation or yoga.